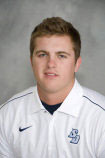 Dylan Covey
Ht/Wt:
6' 2"/200 lbs
Position:
RHP
Team:
San Diego
Dylan Covey Profile
Drafted by the Brewers four years ago, he was diagnosed with diabetes and chose to attend college and get his condition under control.
< br>He's back, better than he was a high school pitcher. And the MLB scouts are following every game he pitches at San Diego University.
< br>Saw him myself – and he was lights-out.
< br>The only college pitcher I've ever seen who has strong pinpoint command of eight different pitches – a four-seam fastball, a two-seam fastball, a cutter, a change –up, a "Sandy Koufax" curve that buckles hitters' knees, a Slurve, a splitter, and a slider.
< br>Didn't know that much about him until lately, but Rich Hall thinks he's as good as most #1 or 32 starters in MLB right now.
< br>Look for his stock to climb again. He's a better pitcher than four years ago (he's on a thing called the insulin pump) and he's bigger, stronger, and smarter.
Profile submitted by Keith Curran - Jan. 10th 2013
< br>
Dylan Covey Videos
Dylan Covey of the USD Toreros
Dylan Covey - RHP - Orleans Firebirds (07-05-12 at Harwich)
Dylan Covey, rhp, Orleans Firebirds (San Diego)
Click here to return